You are here
Events
Upcoming & Current Events
World Usability Day 2015 | Innovation of UX Tools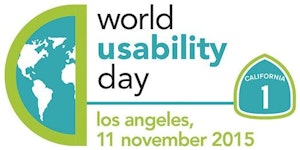 Innovation can mean different things to different people but most can agree it includes inventions and changes in products and services that improve a situation or solve a problem in a new way. Innovation in User Experience means that people can do what they need and want to, with technology, products and services that enhance their experience.
As the profesison and practice grows up and becomes an essential tool to commerce, service, product development and customer experience, new tools are coming on the market to make our tasks more accurate, efficient and time-saving.
Tonight, we're delighted to celebrate the innovation and ingenuity of some of our well-known tools and some brand new tools. Join us for a wonderful evening as we celebrate the 10th anniversary of World Usability Day in conjunction with the students of UXSC, USC's student UX Club and explore what's new, improved and what we wish was available now!
Event Information
Where:University of Southern California Kaprielian Hall (KAP), Los Angeles
When: Wednesday, November 11, 2015 from 6:30PM to 10:00PM
HFES 2016 Interational Symposium on Human Factors and Ergonomics in Health Care
The Human Factors and Ergonomics Society invites you to attend the 2016 International Symposium on Human Factors and Ergonomics in Health Care: Shaping the Future, to be held April 13–16, at the Hilton San Diego Bayfront, San Diego, California.
The 2016 Symposium will offer cutting-edge presentations, posters, and workshops on emerging issues in health-care human factors and the challenges facing us in the near future.
Event Information
Where: Hilton San Diego Bayfront
When: April 13-16, 2016
ErgoX
ErgoX is an eXtraordinary ergonomics event that provides practical, usable, and impactful solutions for the daily challenges faced by ergonomists and safety specialists across a wide range of office and industrial settings.
Event Information
Where: Hyatt Regency Orange County
When: June 6-8, 2016
Volunteering at San Diego Food Bank (recurs monthly)
    SD-HFES and Pacific Science & Engineering combine efforts to help San Diego Food Bank provide food to those in need. Every other month since April 2008, and sometimes every month during times of need, a team of 10-15 members has gone to the San Diego Food Bank to sort and package food. Besides helping people in need, this a great chance to get those muscles moving!
     If you are interested in volunteering at San Diego Food Bank, please e-mail us and we will add you to the invitation list.          
Past Events
SD -HFES Social on Friday, March 6th
    Come join SD-HFES and Pacific Science & Engineering for a networking happy hour on Friday, March 6th, 2015 at Season 52! We will be socializing and planning chapter events and tours for the year of 2015. See you there!
Event Information
Where: Seasons 52 at UTC
When: Friday, March 6th @ 4:00PM
2013 International Annual HFES Meeting
     This year, SD-HFES hosted the annual HFES meeting! We are so excited that HFES members from around the world joined us at the Hilton San Diego Bayfront, San Diego, California, September 30-October 4, 2013. 
Robotics Demonstration at Annual HFES Meeting
     At the annual meeting, we hosted a first-of-its-kind technology demonstration. This demo was presented by an award-winning high school robotics team from the San Diego area. Students discussed with meeting attendees the science and engineering of their robot, as well as the international robotics competition. At the For Inspiration and Recognition of Science and Technology Robotics Competition (FRC), the San Diego team – called the Holy Cows – son the Chairman's Award. It was a pleasure to interact with such motivated and talented technology developers! 
San Diego Science Fair – March 2013
     Members of the San Diego Human Factors and Ergonomics Society (SD-HFES) provided their services as judges for the 59th Annual Greater San Diego Science and Engineering Fair. The judges selected projects that demonstrated originality and expertise in addressing problems related to human performance within technological work environments. The following six projects were selected as winners or honorable mentions:
Senior High division winner – Healthcare at Home: Gait Analysis with Webcam and Computer Vision

Junior High division winner – Manual versus Autonomous Control using LEGO NST 2.0 (robotics)

Junior High division honorable mentions

Hang Up and Focus (cell phone distractions)

What Was That Again? (effects of music on learning)

Now You See It, Now You Don't (change blindness)

Are Helmets Really Safe?
     SD-HFES would like to thank the following people for volunteering their time as judges and reviewers:  Teresa Alley, Nancy Heacox, John Gwynne,and Mike Cowen (pictured above), and Ari Kiken.
8th Annual Cal State Long Beach
HFES Student Chapter Conference – Feb 2013
     Four representatives from SD-HFES traveled up to Long Beach, CA, to attend the 8th annual conference hosted by the student chapter of HFES at California State University, Long Beach. Lively presentations were given by three speakers, including SD-HFES's own Frank Lacson:
     "What's it like to be a UX Designer?" – Linh Pham, Lead Interaction Designer, LivingSocial
     "What (if Anything) have we Learned after Seven Years of Research of Situation Awareness in NextGen?" – Dr. Thomas Strybel, Core faculty member of the MSHF Psychology Program and Director of the Center for Human Factors in Advanced Aeronautics Technologies, CSULB
     "From Engineering Psychology to Human Systems Integration: Lessons Learned from Research and Practice" -- Frank Lacson, Human Factors Engineer, Pacific Science & Engineering Group.
Palomar Medical Center Tour – Jan 2013
Members and friends of SD-HFES were treated to two tours of the newly-opened, state-of-the-art healing facility. The Palomar medical Center was designed to be a highly usable environment for patients, health professionals, and visitors.
Patient rooms accommodate a plethora of medical equipment in an effective and safe manner. Patient comfort is heightened through well-planned location of call buttons, equipment hookups, lighting, and amenities for guests; in-room restroom facilities include no-step showers.
"Access" is a theme. Patient identification and medical record information are highly accessible to health professionals throughout the facility. Guests can use attractive interactive way-finding stations to locate their current position and destination. Each floor has a visual metaphor, with useful and easily understood signage. Also, all patient rooms are located along outer corridors so that patients and their guests can absorb the breathtaking views that this hilltop medical center affords.